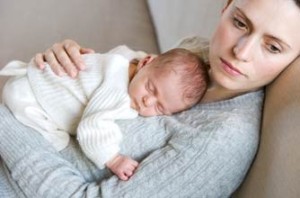 The hormonal rollercoaster experienced after giving birth can lead to what is commonly referred to as the "Baby Blues".  One minute you're cooing over your newborn infant, the next instant you're weeping. This is perfectly normal and can last anywhere from a few days to a few weeks following birth.  However, if the symptoms continue or worsen, it could be Postnatal Depression.
Postnatal Depression, also referred to as postpartum depression, is a form of depression experienced after giving birth.  Postnatal depression is characterized by depressed mood, fatigue, anxiety, crying spells, feelings of guilt or shame, insomnia, poor concentration and suicidal thoughts.  The onset can occur within 4 weeks to 30 days postpartum.
The symptoms of postnatal depression do not only affect the mother, but the infant and the family, as well.  An infant's level of care requires constant attention, which a mother experiencing postnatal depression may not be able to provide, given low energy and fatigue. Mothers with postnatal depression are less likely to hold their children, breast feed, or play with their children, all an important part of developing healthy attachments. An inability to provide developmentally appropriate care can result in a child who is withdrawn or insecure in later life.
A misconception of postnatal depression is that it is a rare occurrence.  Many women may believe that because they have a tendency toward a cheerful disposition that it cannot happen to them.  However, postnatal depression is more common than one may think and can affect all ethnic groups equally.
Princess Diana was among the most prominent women in the world to develop postnatal depression following the birth of her first son, Prince William.  In order to de-stigmatize postnatal depression, Princess Diana spoke openly about her symptoms and how it affected her ability to be the type of mother and wife she wanted to be.  A feeling that resonated among many women who were suffering in silence.
The American Psychology Association (APA) estimates that 9% - 16% of women will experience postpartum depression.  Those odds increase to 41% if the woman has experienced postpartum depression previously.  Although the risk of developing postnatal depression is increased for those with a history of mental illness, the statistics above show that it can (and does) happen to anyone.
If you or someone you know may be experiencing postnatal depression, there are treatment options.  It is imperative that anyone with postnatal depression seek immediate mental health care.  Women can consult their GP for further referral for mental health care.  You may be asking yourself, "Why should I seek counseling?"  Many believe that by asking for help they are admitting defeat and perceive themselves as weak.  That couldn't be further from the truth.  Asking for help when you need it most is actually a sign of great strength.
Counseling for postnatal depression can provide much needed emotional support for new mothers by helping them to explore the meaning of this experience for themselves. Counselling can help women to make sense of their symptoms in the context of their entire lives, which can be significantly empowering for them, correcting maladaptive thinking such as "I'm a terrible mother" and thereby eradicating feelings of guilt or shame. It can also be an opportunity to work on unresolved emotional aspects of their lives.
Parenting courses are also offered to diminish levels of anxiety commonly experienced by new parents.  Ultimately, counseling and psychoeducational courses help women with postnatal depression to feel they are not alone and encourage bonding, which will result in a healthier mother and child.
In addition to seeking professional help, social support is crucial for all new mothers, particularly those suffering from postnatal depression.  Getting rest, exercising, good nutrition, the help and support of family and friends have all been proven to be successful strategies.