In recent years fat oppression, more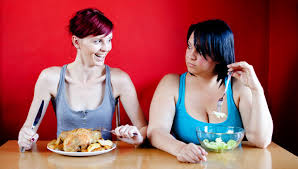 commonly known as "fat shaming", has become accepted as the "done thing". Magazines, TV shows and public figures like Katie Hopkins have made "pointing out a person is fat" acceptable. When clicking on the comment section or a message board where people are discussing other people, more often than not the first things that is discussed is a person's look and weight with their personality or accomplishments only mentioned as an afterthought. We are living in a shallow world, and anyone not possessing what is seen as the "ideal body" or just different in any way is in for scrutiny.
Being bigger than others has never been easy, except maybe when living in Rubenesque times, I can testify to this: even in the 1990's growing up as a "big kid" was hell at school. But this was AT SCHOOL, kids usually grow up knowing better and stop the bullying when they reach 19. Not this generation: adults gleefully approach other adults in the street, asking "when is it due", knowing a person isn't pregnant. They think nothing of saying: "should you be doing that", if they see what they consider to be a "fat person" eating in the street. This used to be taboo. Not anymore.
Many people think pointing out a person is fat helps the "fat person" in some twisted way. Well, no it doesn't: usually they are aware of the problem, thank you, pointing it out only works demotivating.
Of course not everyone is like this, there are many people out there who don't care about how you look. In fact, there are even so called "chubby chasers" out there, folk only falling for those that have "something to grab hold off". Good to know, of course. But when you are feeling insecure about your weight and have suffered several upsetting altercations with people that judged you, knowing this won't help: you are sure the entire world is against you and these people are just lying to be kind.
Nobody chooses to be fat and often it has little to do with food intake. My weight gain was sudden. When I was about 7 my weight suddenly changed, almost overnight. I had not changed eating habits, I was a dancer so got a lot of exercise. Still I became fat, and as a result people begun to treat me differently. "I'm not sure you should" were added when cake and candies were handed out at birthdays, judgemental looks were included with my chips, etc. I was never a binger, hardly able to empty my plate at the best of times. My mum schlepped me around from clinic to clinic to find what was wrong with me. At around age 12 I was virtually anorexic, dancing to Michael Jackson most of the day and still I did not lose weight. I tried diet after diet, miracle cure after miracle cure and guess what: I still have nothing to show for it.
This is true for many people.
Of course there are people that gain weight because of food, but it is not something they choose to do either. Usually there is something deeper than "I like to eat" that makes people reach out for comfort foods.
No matter how you gained weight, the end results are often the same: insecurity and a constant fear of being judged. This causes stress and stress often results in weight gain, even if you try to diet. Dieting and not losing weight is even more depressing and you can end up in a vicious self-hating cycle. Others may lose weight, but often find they are still not happy on the inside, not even after all that work.
This vicious cycle is something not many people are able to break, and only few are aware that counselling is an option that could help break it. It is understandable that a person that has been or at least felt judged all his or her life may find it difficult to seek help. This is understandable because some might have met, in the past, with unsympathetic doctors or others in the "care" industry that were not as caring as they could have been. The difference here is that a counsellor is not there to look at your shape and size of your body and judge you. He or she is there to look at your internal world and how this is reflected in your relation with your body and with others. He/she might assist you in finding your self-worth and self-love before you try changing anything about your body. Once you have accepted yourself on the inside, you might not even care about the outside. This is what a counsellor can help you to achieve: inner peace, self-respect to make you see that no one should be able to make you feel bad about yourself, no one has that power.
The support and advice of a counsellor can break years of bad programming you may have internalised. It can also help you on the road to reclaim your self-esteem and help you either accept yourself as you are or help you find a way to lose weight on your own terms. But accepting yourself comes first. Always. No matter how thin or big you are, only the love you have for yourself can make you look truly beautiful and once you find that, weight no longer matters.
...
Read more